World War II Commemorative Day
An annual event at The Harbor Defense Museum, WWII Commemorative Day honors U.S. Army soldiers who fought to save the world from totalitarian tyranny. The event features restored military vehicles and authentically costumed historic reenactors who bring their personal collections of military material and set up displays for our visitors. The private collections that are exhibited were often decades in the making and it is an exceptional opportunity to see first hand the weapons, uniforms and accoutrements of the American infantryman, paratrooper, engineer, medic, military policeman, and many others, of more than a half century ago. Thanks to the generous support of the New York Military Vehicle Collectors Club we have on exhibit expertly restored examples of the trucks, jeeps and armored cars that first made the United States Army the most mobile fighting force the world had ever seen. As you enjoy the displays and the WWII music, the museum staff and reenactors are ready and waiting to entertain all visitor questions. Don't miss it on the second Saturday in March from 10:30 to 3:30. There's a lot to see, hear and touch!
4th Armored Division Reenactment Association member Dave Gotard, authentically costumed as a military policeman handles visitor questions about this display of infantry equipment and weapons.
Outside the museum are some of the vehicles brought by the New York Military Vehicles Collectors Club for visitors to examine, including an officer's staff car.
Plenty of jeeps! He's
getting a close up look
at the Army's 1/4 ton
workhorse.
Clad in their own original WWII uniforms, historic interpreters were on hand to answer visitor questions. These young soldiers got a chance to handle a real M1 carbine, originally intended to replace the Army .45 pistol.
Is this really from WWII?" Dave Gotard and Josh Orenstein (dressed as a 4th Armored infantryman), generously allowed visitors to handle the items they brought for display.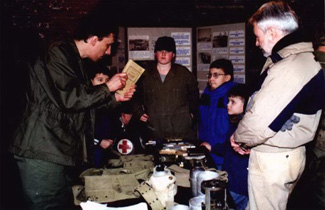 Is that the best medicine they had?" Paul Muranyi, a local artist and amateur historian, brought an extensive display of WWII medical equipment. Part of the 4th Armored Reenactment Association, he shares the fruit of his research on WWII combat medics with visitors.